Mountain-Biking In The Black Forest
Your Starting Point: Black Forest Panorama Road
You can start a mountain bike tour wonderfully from our Hotel Landmann in Kirchhausen. Situated directly on the panoramic road in the southern Black Forest, your route will take you either via Sallneck to Zell im Wiesental with its lush meadows and forests to Feldberg and Titisee-Neustadt for trained mountain bikers, in the other direction via Endenburg to Kandern.
In Kandern, admire the "Kandertalbahn", known far beyond the region, affectionately called "Chanderli" by the locals and now operated as a museum railroad. Those who are sporty will manage the rapid descent from Kirchhausen to Kandern and at the end comfortably back up to about 600 meters in altitude.
For all those who are looking for thrills & action in the Black Forest, we can only recommend the Hirschsprung-Team in Breitnau for guided and more adventurous tours!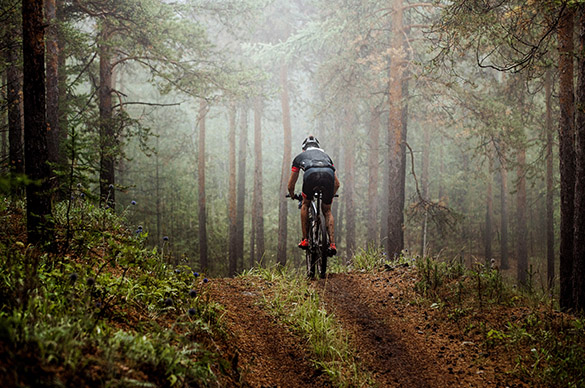 Infrastructures For Mountain Bikers
The Black Forest is considered the ideal destination for bikers, because thanks to developed infrastructure enjoyable tours are possible. Thus, even less experienced cyclists can undertake completely new Black Forest experiences and panoramic routes with views, for example in the beautiful Markgräflerland or around the lakes of the Upper Black Forest. For example, the 70-kilometer-long Lakes Cycle Path has been explicitly developed for riding an e-bike in the Black Forest and takes you past the region's most beautiful lakes. It can be ridden in a shortened form or for experienced bikers also by mountain bike. The best way to get to the lake bike path with Titisee, Feldseemoor, Windgfällweiher and Schluchsee from our Hotel Landmann is by car and bike rack.
We would be happy to welcome you soon at our Hotel Landmann in the Black Forest.
PS: If you would like to rent and try out an e-bike, we will be happy to provide you with our selection. Here you can make your reservation directly online through our partner e-kone
Well Plannes Is Half Ridden
We are happy to help you plan your e-bike or mountain bike tour through the Black Forest with its indescribably beautiful nature, wonderful panoramas and views.
We have compiled and linked some highlights for you here. We look forward to your visit with us at the Hotel Landmann.
Long Horn Ride Parcours Todtnauberg
Downhill-Park Todtnau
Mountainbike Eldorado Bad Wildbad
Hochpunkt Hochschwarzwald
Todtnauer Ferienland
Zweitälerland